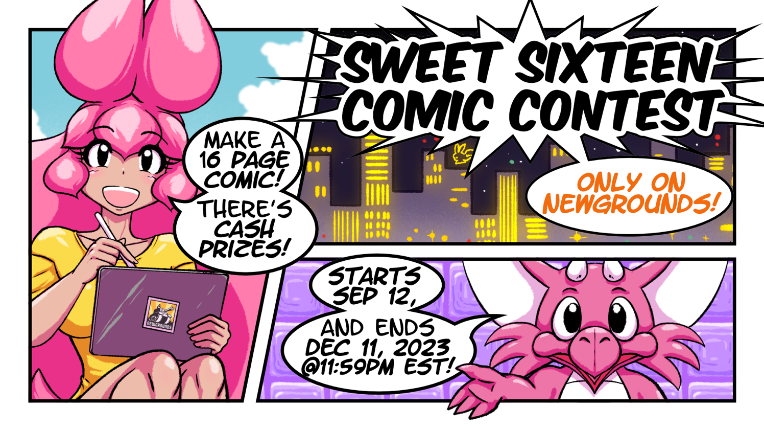 So! I've been on Newgrounds for 4 YEARS NOW and it's been awesome! I love this community, and I've made a lot of cool stuff because of the energy here. Also! I've been an Aussie citizen for 4 YEARS NOW! Which is also awesome. So when you multiply 4 and 4 together and then add in a favorite art form of mine, you get:
✨💖📖The Sweet Sixteen Comic Contest!📖💖✨
PRIZES for the Best 16 Page Comics:
1st Place - $500 USD
2nd Place - $300 USD
3rd Place - $150 USD
4th Place - $50 USD
We will try to have it all judged and prizes given out before Christmas. We know how it be. Prizes will be paid through PayPal. And if anyone wants to throw in cash or other things as prizes, DM me.
We're also teaming up with @Ugasisvelta to do podcast interviews with the winners! Thanks, Ugasi!
Here's how it works:
Make a 16 page comic, digital or traditional, color or b/w, that's up to you!
Then post them here to Newgrounds with the tag sweetsixteencomic. DO NOT SPLIT YOUR COMIC INTO MULTIPLE POSTS! We will not read comics that are split into multiple posts. That means you will have to put all 16 pages into a single Art Portal or Games Portal post. I have tips for doing this later in the post. Artists can be involved in multiple projects, but each comic needs a single post.
Make sure to have them posted on or before December 11th, 2023, at 11:59pm EST! No submission will be accepted afterwards. (I've posted some images that had EDT rather than EST, but I meant EST because I'm using Newgrounds Time, which is the Eastern Time Zone. I hate Daylight Savings...)
Original stories will be judged higher over fan comics, though if you can make that awesome FNF or Space Dandy comic that blows us judges away, go for it!
We're accepting comics E through M. Keep It P-Bot Friendly! :D
If your comic is part of a series you're working on, keep in mind we will not be reading the rest of the series. Though this is a good excuse for starting your series!
And if your comic is longer than 16 pages, we will only be reading the first 16 pages, so make 'em a banger.
Some Clarification: 
A cover only counts as a page if you need it. So if you have 15 pages of comic, the cover can be your sixteenth page, but it's fine to have 16 pages of comic and a cover.
Collabs are OK! Just designate a collab organizer for possible PayPal purposes.
Da Judges:
@KittyhawkMontrose (that's a-me!)
Where Can I Show Off WIPs, Ask Questions, Organize Drawpiles?
My X Community (yes, X), Coffee Into Australia. Keep in mind, the post links can be public.
My IRC/webchat (yes, IRC), #sweetsixteencomic on Montrose. Here's more info on how to join.
Three Rules in my communities: NO ILLEGAL PORN, NO SPAMMING/FLOODING (Sadposting and excessive promotion included), and NO FURRY MATERIAL/ LINKS
Please keep in mind that while furry material is banned on Montrose, I will be making exceptions during the contest period in Coffee Into Australia and #sweetsixteencomic. It will not be allowed on any other Montrose.is channel and will revert back after the contest.
DM me on Newgrounds if you got questions too. Not so good for WIP and Drawpiles tho.
POSTING TO THE GAMES PORTAL:
Easy peasy! Just use Bando's Comic Wizard:
The instructions for use are in the utility itself. If you have any questions, please DM @alsoknownas1, and he'll help you out.
POSTING TO THE ART PORTAL:
This section might change when @PsychoGoldfish finishes the Art Portal Update. He's aiming for the first day of Autumn (Spring for us in the Southern Hemisphere!). Go go go! You can do it!
Update: @TomFulp has offered to give a free month subscription to anyone entering the contest who wants to post in the Art Portal so unsubscribers aren't put at a disadvantage if the Art Portal updates during the contest. That's so awesome! Please head over to this forum post to give him a big thank you!
But for now, there is an issue with posting 16 pages to the Art Portal as 16 images. Right now, the Art Portal only allows one main image and 10 images embedded in the comment section. The way I've done it is combining pages with an obvious black bar to indicate a page change, so it goes from 16 images to 8 images. The quality of your images will suffer though because the images in the comment section will be converted to JPEG'd to hell and back .webp. But! If you plan well, it should look OK.
Examples:
I've posted quite a few comics here on Newgrounds. Here's some I can link to:
And here's a fun one by @deadspread83:
I believe that's it! I can't wait to see all the comics, and come on by and chat on in Coffee Into Australia, the Newgrounds Forum Post, or IRC!